Learn Quran for Kids Online has witnessed a great increase in demand within the last decade. This is because Muslim parents around the world realized the importance of teaching the Quran & Islam to their kids.
Teaching the Quran to children falls under the rule of learning the Quran in general, with a little difference that will be clarified in the following lines.
The Messenger of Allah (PBUH) affirms that teaching the Holy Quran is a good deed, and whoever denotes goodness, is rewarded similar to the one who does it.
Whoever guides to good has the like of the reward of the person who actually does it.

Hadith [Al-Adab Al-Mufrad 242]
The Virtues of Learning Quran to Kids
Learning Quran for kids has so many virtues and benefits:
The Holy Quran is the key to all sciences; It's the source of all knowledge and goodness. So, raising your child in Quran will grant him/her a smart mind and pure heart.
Quran learning for kids introduces the child to Allah (SWT), and draws him closer to Allah Almighty; the child gets to know that the attributes of perfection are only for Allah Almighty.
It increases knowledge, action, and insight.
It helps the Muslim kids know the path leading to Allah (SWT), the qualities of its people, and what awaits them from permanent bliss when they meet their Lord.
Learning Quran for kids helps them to avoid the path that leads to the wrath of Allah Almighty and His torment and to know the qualities of the people of Hell and the punishment that awaits them.
The learner of the Holy Quran is distinguished by a good reputation and good morals.
Kids learning Quran are distinguished by the eloquence of the tongue and the proper pronunciation of Arabic letters. By taking each letter out of it from its natural origin.
Tips for Learning the Quran to Kids
There are some tips that can make learning Quran for kids simple & easy:
1- Instill the love of learning the Quran in kids' hearts
Teaching Quran to kids by reminding them of what Allah (SWT) promised to His faithful servants who abide by the holy Quran's guidance and commands.
Simple interpretation for the verses that kids wish to memorize
Simple translation/interpretation of Quranic verses to kids makes it easier for them to memorize. It implants the information in their minds by reading the meanings of the words and the story of the surah and mentioning the reason for its revelation and its merit. One of the effective Quran learning for kids techniques is using some fun and useful videos to explain the Quran to children.
Be a good example for your kids
This is important for your child to see you while you are reading the Quran. He/She will imitate you and love to read the Quran with you, and you will receive great rewards for this as well.
Bring your child a Mushaf as a gift
When you gift your child a Mushaf, he/she would love to learn Quran from it; Kids tend to have a bond towards gifts from parents.
Learn Quran for kids while they play
Learning Quran for kids at an early age is difficult; children tend to play most of the time. So it is imperative for parents and mothers to positively invest this unbridled desire in their children and not deprive them of it. Implementing the idea of ​​learning the Quran by playing is very useful. You teach Quran memorization to children so that you repeat verses to them while they jump on the trampoline, while they swing on the swing, or while they play any game they like.
Repetition utilizing modern technology
Use repetition technique in a fun and interesting way by utilizing modern technology to attract the attention of your child. You may use a recording of your voice and let him repeat with your recording or record his voice and repeat with him. You may also play a video of children's Quran recitations and he/she repeats them with them.
Using cards in the Glenn Doman method
Using "The Doman Method" to learn Quran for kids by writing the Quranic verses on cards, then presenting them to the child several times so that he/she memorized it.
Initiating Quran recitation or memorization contests for kids
Enroll your kids in Quran recitation or memorization competitions at mosques or online. You can also gather your kids and their friend and make a small competition at home.
Give kids rewards for learning Quran
Reward your child when he/she memorize a surah or chapter of the Quran. The rewards could be stickers, sweets that your child loves, a game, a picnic, a hug, and so on. These things motivate the kids and encourage them to learn Quran.
Be patient with teaching Quran to kids
Beware of intimidation, shouting, or hitting your kids to learn the Quran. Children have different abilities and ways of thinking, some of them are auditory, some are visual, and some are sensual. You have to vary between the means you use and the result may not appear immediately. They need time, effort, patience, and follow-up.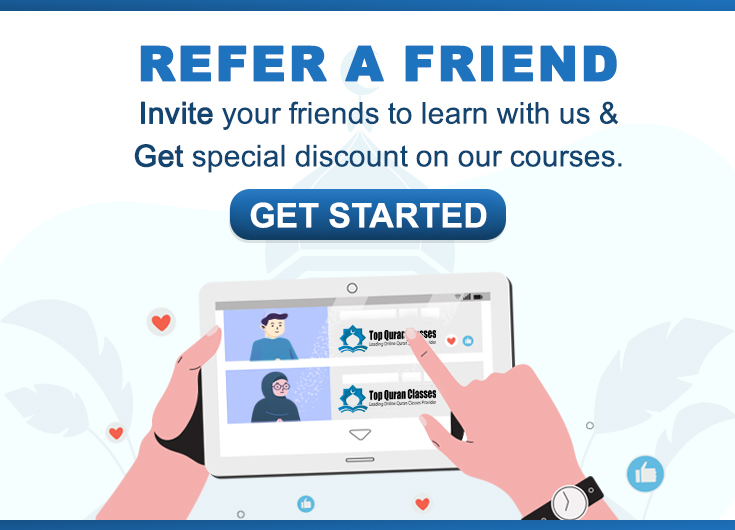 Learn Quran for Kids Online
Kids in the first stage of their life are more able to learn and absorb information. So their abilities must be exploited for their benefit. Learning Quran for kids online is one of the best decisions that any Muslim parents could undertake in favor of their children.
Many Muslim kids now are learning Quran online. They learn Quran reading, recitation, memorization, and even basic tafsir of the Quran. They start their journey of online Quran learning from the age of 5 and be raised upon the teachings of the Quran & Islam.
How to Learn Quran for Kids Online Easily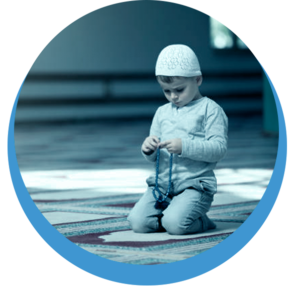 Online Quran learning for kids can be super easy and fun as well with professional online Quran teachers for kids at Top Quran Classes. Teaching them Quran recitation & memorization and instill the love of the Quran into their hearts.
What Quran Skills That Kids Can Learn Online
Teach your kids the Quran, reading the Quran continuously helps the linguistic growth and development of reading for the child to stimulate his memory, improve his skills, straighten his tongue, and accustom him to speech and expression.
Implanting good values, morals, and principles to refine the child's behavior, increase love and affection with others, increase his social relations, and develop the ability to communicate and communicate with others.
Kids learn Quran, the child gains experience and skill by reading various stories. The Quran is full of stories of the Companions, Prophets, and righteous people, which keeps them always at the forefront.
The Quran develops thinking in the child and broadens knowledge. Every word that passes to the child must be stimulated to know the meaning, especially if it is in the form of a story.
Listening to the Quran before reading it will make it easier for the child to memorize it and do it for him, and getting used to listening to it works to protect them and protect them from all evil.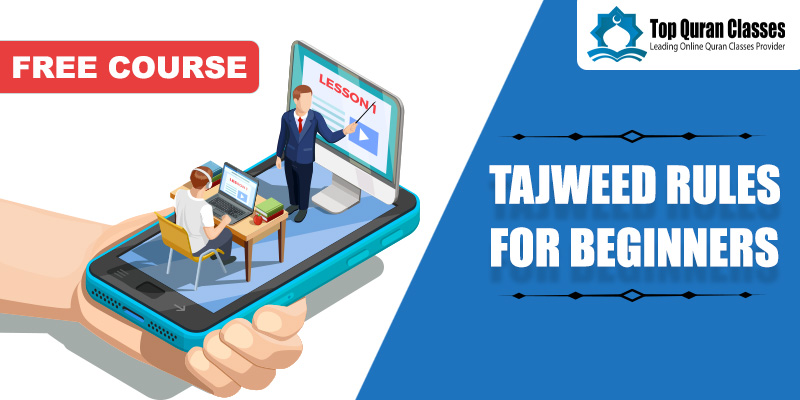 get
free

Tajweed course

Fill in the form below & Get access to Tajweed Rules for Beginners Course for FREE.
conclusion 
Do you want your kids to learn more about Online Quran Classes? Sign up for Top Quran Classes in the Online Quran Classes program and watch them dive deeper into the Quran science and learn the Holy Book of Allah.
Top Quran Classes are online Quran classes for kids, Islamic studies for kids, and let your children learn the accurate Quran recitation and word pronunciation even if Arabic is not their first language.
Quran lessons online in Top Quran Classes are fun as well as structured, they'll learn with eLearning Quran;
Our Quran teacher,  Arabic teacher, Islamic Studies teacher, and tajweed teacher,  ( Quran for kids ) will be their friends during this amazing journey.
Online Quran tuition learning can be challenging if you're seeking it for your kids.
 Top Quran Classes offers you a wide variety of topics to teach your children online.
Top Quran Classes experienced live tutor ( male Quran teacher & online female Quran tutor ). They have many years of experience in Teaching Arabic online and the Quran online to non-Arabic speakers.
Whether it's Quran online, Arabic online, Tajweed, Ijazah, tafsir, Qirat, tajwid al Quran, and Islamic Studies. Top Quran Classes has your back with professional Quran tutors who are willing to go further with your kids' education. With an attractive interface and well-structured lessons,
Top Quran Classes give you and your children the chance to learn with holyquranclasses who are going to be your kids' new friends, accompanying them in their learning process and encouraging them to learn more.
Top Quran Classes ( Quran online classes ) is the best Quran with tajweed online