In 2021, learn Quran with Tajweed online becomes the best way to learn Quran fast & easy.
Since the start of the Coronavirus pandemic (COVID-19) lately in 2019, the whole education system including Quranic education was affected by this crisis. All Quran students turned to learn Quran online instead of Islamic schools/centers due to global lockdown.
The results went over all expectations; learn Quran online with Tajweed proved to be much better, easier, affordable, and more flexible than the traditional Quran learning.
In this article, we'll learn:
Tajweed Meaning & Definition
Why we should Learn Quran Tajwid
The best ways to learn Quran with Tajweed online in 2021
Basic Tajweed Rules for Beginners (with Videos)
What is Tajweed Quran?
"Tajweed Quran" is about applying a set of rules on Quran recitation to pronounce each letter and word the right way, in addition, to make the Quran reading more beautiful which is called "Tarteel".
The word Tajweed linguistically means "doing something better". It's actually an Arabic word ("تجويد") that comes from the same root letters as the word "Jayyid" in Arabic (meaning "good"). It also a verbal noun from 'jawwada' (جوَّد), which literally means "to make better".
So, learn Quran with Tajweed means studying the set of rules governing the way in which the words of the Quran should be pronounced during Quran Recitation.
Tajweed is one of the most important sciences of the Quran & Islam. It is a science governed by deep-rooted static rules derived from the oral recitation of the Quran by the Prophet Muhammad (PBUH) after he heard the revelation from the Angel Gabriel (Peace be upon him).
The applied definition of Tajweed is "articulating every letter from its articulation point (makhraj) and giving the letter its rights and dues of characteristics (sifât)". So, Tajweed deals with the accent, phonetics, rhythm, and tamper of Quranic recitation. It's considered the grammar of reading Quran.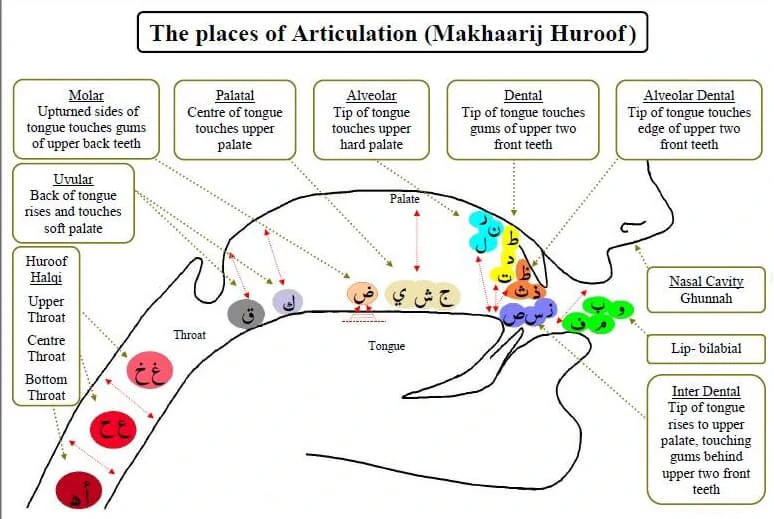 Read more : 5 Best Online Quran Classes Websites in 2021
Importance of Learning Quran with Tajweed
Why should we learn Quran with Tajweed? Why is the term "Tajwid" so popular in Quran learning?
The answer to these questions lies in realizing that the holy Quran is not like any text, it's the words of Allah (SWT) and guidance and mercy to the whole world. So, we should recite the Quran correctly with the right understanding of its meanings.
Since the Quran is the most eloquent texts ever, we could recite its letters or words in the wrong way resulting in a major change in the meaning. Learn Quran with Tajweed preserves the tongue from making mistakes in pronunciation.
Moreover, applying Tajweed rules (practically) when reciting Quran is Fard Ayn, which means obligatory on every Muslim. On the other hand, acknowledging Tajweed terms (theoretically) is Fard Kifaya, which means a common responsibility among the Muslim nation.
Allah Almighty mentioned the importance of Tajweed in Quran when says:
and recite the Quran ˹properly˺ in a measured way.

Holy Quran [73:4]
Our beloved Prophet Muhammad (PBUH) also stressed the importance of learning Quran recitation with Tajweed when said:
One who was devoted to the Qur'an will be told to recite, ascend and recite carefully as he recited carefully when he was in the world, for he will reach his abode when he comes to the last verse he recites.

Hadith [Sunan Abi Dawud 1464]
Learn Quran with Tajweed is essential to make the reciter proficient enough in the proper intonations and diacritics of the Arabic language.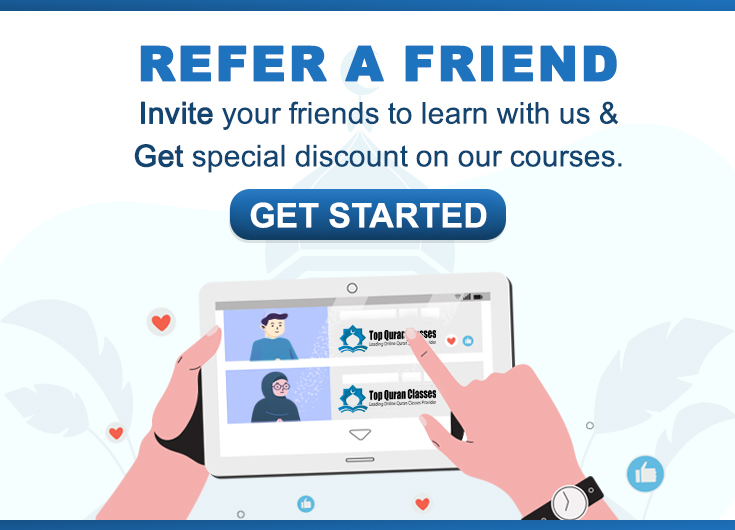 Benefits of Learning Quran Online with Tajweed
The online Quran Tajweed classes can save your money and your effort that you could spend on going to a traditional Islamic school.
When you learn Quran online with Tajweed, you will schedule your lessons in a way that comforts you.
Learning takes place in an interactive and effective online environment as you will interact directly with your online tutor.
The correct pronunciation of the Quranic words helps to better understand Quranic verses, divine revelation, and the vital importance of the Arabic language throughout the history of Islam.
Tajweed Reveals the miraculous features in verses and verifies its uniqueness in the Quran.
Discloses the beauty and eloquence of the Arabic language.
Sets standards for reading the holy words against a man-written book.
Learn Quran with Tajweed attains enhanced contemplation of verses, inheriting heart-tenderness, and increasing faith.
Protects the Arabic Islamic text form losing identity.
Modulates the reading pattern by the preservation of the proper application of Arabic rules and grammar.
How to Learn Quran with Tajweed Online in 2021?
In 2021, you or your kids can learn Quran online with Tajweed through the following 3 methods:
Recorded Tajweed Courses.
Tajweed Apps on Smartphone.
Still, the best way to learn Quran Tajweed online properly is by obtaining this knowledge from a native and professional Quran teacher. That's why Top Quran Classes has gathered the best native Arab online Quran teachers to teach you or your kids Tajweed Quran.
Top Quran Classes Institute has also created the best customizable and flexible Tajweed course to learn Quran online for kids. The Quran tutors providing this course are specialized in teaching Tajweed for kids in a fun and easy way.
Aiming to help students to learn Quran with Tajweed online in the perfect manner, We implement the 2 aspects of learning Tajweed:
The Theoretical Aspect of Learning Tajweed
This aspect relates to the rulings and rules laid down by scholars in books that teach the provisions of tajweed, such as sections of the outstretched period and its times, as well as the provisions of letters in terms of manifestation, slurring, flipping, concealment, and other provisions and rules that we use when reciting the Holy Quran.
The Practical Aspect of Learning Tajweed
This aspect is not possible for the learner to master except by taking the provisions of tajweed and applying them with a well-known Qari (Quran Reciter) with mastery of the provisions of the intonation of the Noble Qur'an knowledgeable, such as the provisions of richness, facilitation, and oral concealment.
Free Online Tajweed Course for Beginners (Recorded)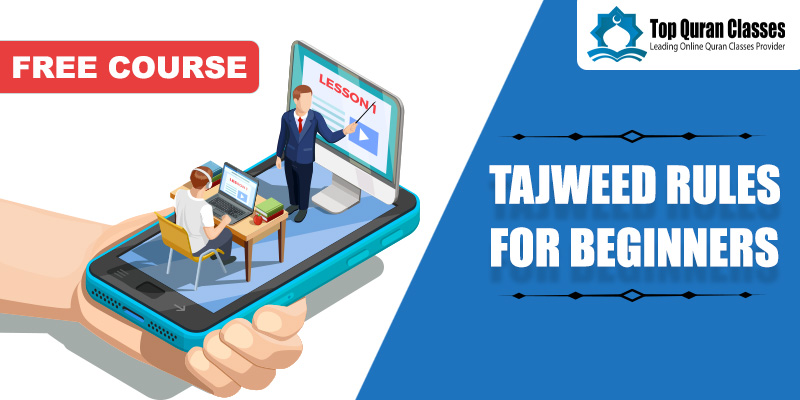 "Tajweed Rules for Beginners" course is an initiative by Top Quran Classes Institute to help absolute beginners to learn Tajweed online free.
This free Tajweed course consists of 8 lessons explaining the basic Tajweed rules that every Muslim should learn.
What You'll Learn in Quran Tajweed Rules for Beginners Course
Rules of Noon Sakinah
Rules of Tanween
Rules of Meem Sakinah
Rules of Qalqalah
Rules of Natural Lengthening
Lengthenings of Reason Hamzah
Lengthenings of Reason Stoppage
Compulsory Lengthening
Comprehensive Tajweed Course (One-to-One)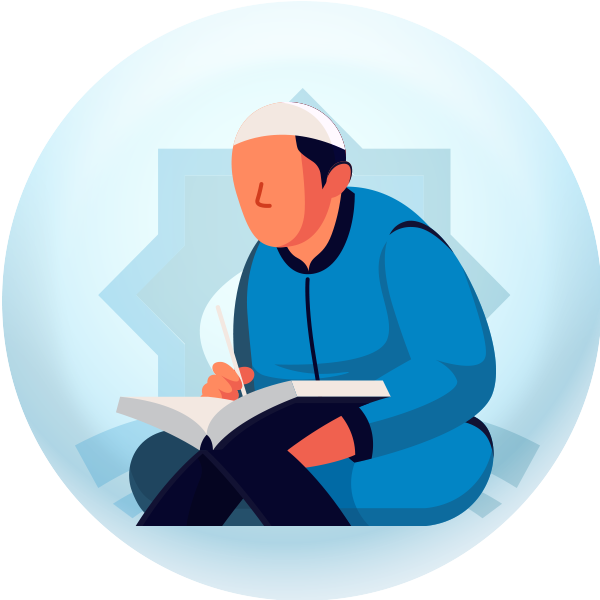 If you want to learn Quran with Tajweed with a professional Quran tutor to guide you in every step, then taking online Tajweed classes at Top Quran Classes Institute is the best choice.
We offer one-to-one online Quran classes for you or your kids to learn Quran online with Tajweed in an interactive and effective way at the comfort of your home.
Our teaching methodology enables the students to understand the complexities of Quranic verse as well as the proper pronunciation of each word and its every part in the mouth.
Learn Quran with Tajweed Methodology at Top Quran Classes
We make students practice basic alphabets, their accurate articulation, and stipulated attributes.
We ask them to practice making Quranic words within 10-15 days.
We teach them the correct application of "Waqf" and "Ibtida", in addition to essential grammatical rules of the Arabic language.
Finally, we make students recite the Quran with higher accuracy and fluency.
What to learn in Tajweed Course by Top Quran Classes:
Articulation of Arabic alphabets
The silent and pronounced Alif
Noon and Meem Mushaddah
Relationship between letters
Characteristics of each word
Pronunciation of Hamzah
Qalqa letters pronunciation
Al-Noon Al-Saakinah Rules
Al-Laam Al-Shamseeyah
Al-Laam Al-Qamareeyah
Makhaarij Al-Huroof
Levels of Tefkheem
Ahkaam Al-Madd
Sifaat-ul-Huroof
Rules of waqf
Al-Idghaam
What Is The Next Step After Completing The Tajweed Course?
Once you master Quran with Tajweed, you can seek to get Ijazah online in Quran Recitation with Tajweed. It's a testimony that entitles its bearer to teach the recitation of the Quran (recitation) with Tajweed and can be granted by an imam or an already accredited scholar (an endless chain).
The learner obtains this certificate after reciting (recitation) the entire Quran with intonation in the presence of the certified teacher.
BONUS: Tajweed Rules for Beginners Book (PDF)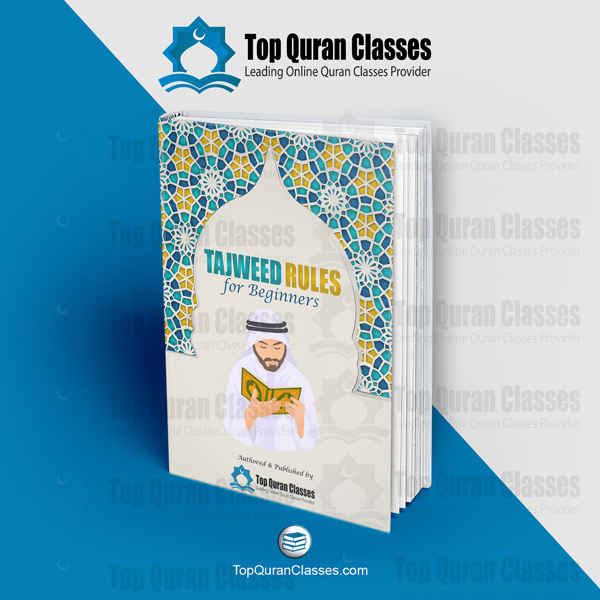 For those who prefer to learn Quran with Tajweed through reading, Quran teaching experts at Top Quran Classes have prepared an e-Book entitled "Tajweed Rules for Beginners".
You can download "Tajweed Rules for Beginners e-Book" FREE or view it online and get started learning Tajwid.